Una nueva historia de sedación de la A al Zen: Zenalpha®
lunes, 19 de diciembre de 2022
Zenalpha® (medetomidina 0,5 mg/ml + vatinoxán 10 mg/ml) solución inyectable para perros es una innovadora combinación de agonista alfa-2 y antagonista periférico, que mantiene mejor la estabilidad de los parámetros fisiológicos críticos1.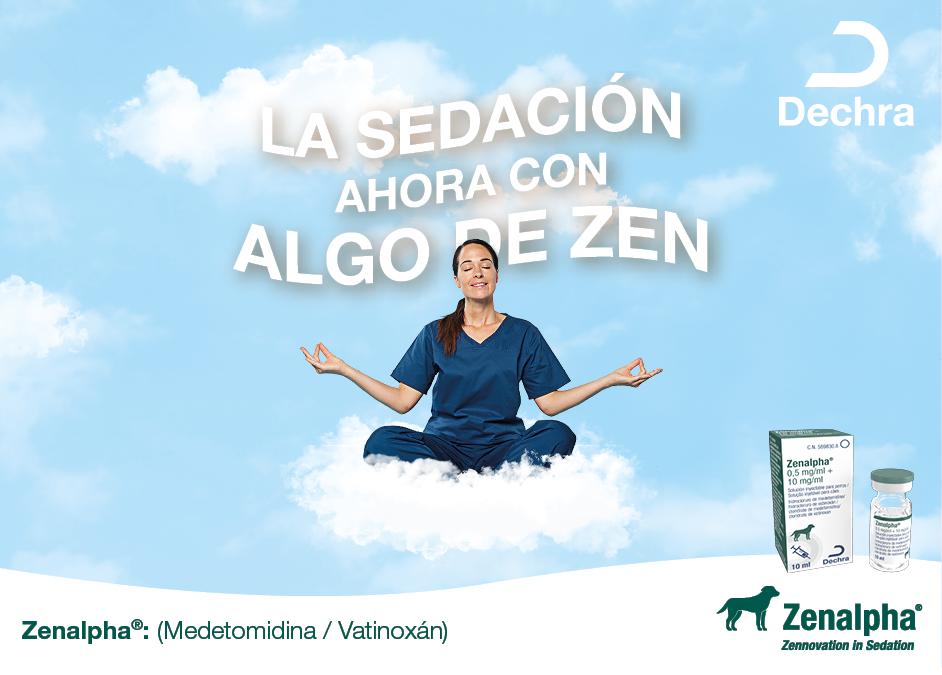 Zenalpha es una innovadora combinación de un agonista alfa-2 conocido (medetomidina) con vatinoxán, un innovador antagonista alfa-2 periférico. Esta combinación permite que se reviertan los efectos de la medetomidina a nivel periférico, pero como el vatinoxán no cruza la barrera hemato-encefálica, se mantienen la sedación y la analgesia.
Con un inicio de acción y una recuperación rápidos, Zenalpha está destinado a procedimientos no invasivos, no dolorosos o ligeramente dolorosos en perros, sin la necesidad de reversión en procedimientos cuya duración no supere los 30 minutos2,
Zenalpha es una adición importante a la gama productos utilizados en la práctica clínica para gestionar las actividades cotidianas que requieren sedación en perros.
Zenalpha se presenta en un vial multidosis de 10 ml en caja de cartón y estará disponible en los mayoristas a lo largo de este mes de diciembre.
Haga clic aquí para obtener más información
Referencias
Turunen, H. and Zimmerman, N. Safety of a medetomidine-vatinoxan combination drug (Zenalpha®) in dogs – a clinical field trial. Proc. IVECCS 2022, IVECCS, San Antonio, 7-11 September.

Zenalpha EU Summary of Product Characteristics (SPC). European Medicines Agency website. Available at: https://www.ema.europa.eu/en/documents/product-information/zenalpha-epar-productinformation_en.pdf. Accessed 29 June, 2022.